The Singapore Table Tennis Association (STTA) first introduced the Foreign Sports Talent Scheme (FST) in 1993, with the aim of scouting and facilitating the migration of non-Singaporeans to represent Singapore in the sport. The scheme has since expanded to encapsulate other sports, most prominently to Badminton and Football. With the female table tennis team's silver medal at the 2008 Olympics (Singapore's first Olympic medal since 2008), not everything was rosy post-victory as more than a handful of Singaporeans lambasted the fact that none of them were local and could speak English, with some netizens even dismissing their accomplishments for the nation completely for 'they will never be one of us'.
It is seemingly impossible to satisfy Singaporeans as we never fail to find faults, even in Olympians who have brought us glory. This xenophobic behavior has long been an issue circling the majority of our nation's citizens.
Singapore is famed for its status as a first world metropolitan city and a global financial centre with a thriving economy despite our small stature. Economic development has and will always be Singapore's number one priority. It is this economic pragmatism and a heavy focus on education that severely inhibits local sporting growth, for many of the youths in our nation are simply too focused on studying and getting academic achievements.
Not many, if any, are contemplating a permanent career as a professional athlete.
Coupled with an already tiny population size of 5.7 million, it makes our dreams of becoming a sporting nation even more far fetched.
'The Chinese have 1.3 billion people. Singapore has a population of four million. If we want to win glory for Singapore and do well not only in sports but in many other areas, we cannot merely depend on the local-born." said Prime Minister Lee Hsien Loong.
Foreign sports talents have undeniably put Singapore on the world map in the respective arenas, from table tennis to badminton and to an extent football. As aforementioned, China-born trio Feng Tianwei, Wang Yuegu and Li Jiawei not only won an Olympic Table Tennis team silver in 2008, but they also won Singapore's first ever World Table Tennis Championship title in 2010.
Image by MYACTIVESG
In Badminton, Indonesia born Ronald Susilo remains Singapore's most successful badminton player to date, reaching the highest world ranking of number six in 2004.
When Singapore last won the ASEAN Football Federation (AFF) Suzuki Cup and proclaimed its pre-eminence in the Southeast Asian region in 2007 and 2012, the team was filled with foreign-born stars such as Mustafic Fahrudin, Shi Jiayi, Qiu Li, Daniel Bennett, and Precious Emuejeraye. 
Foreign sports talents have also enhanced the competitiveness of the local sporting scene, which aids the growth of our local athletes for they have better opponents to play and spar against. An example of this is how the likes of China-born Qiu Li, Yugoslavian Mustafic Fahrudin, Nigerian Agu Casmir and English Daniel Bennett used to light up the S. League, providing stiff competition for Singapore footballers, especially those developing in the Young Lions team, leading to the emergence of home-grown talents such as Fazrul Nahwaz and Hariss Harun to name a few.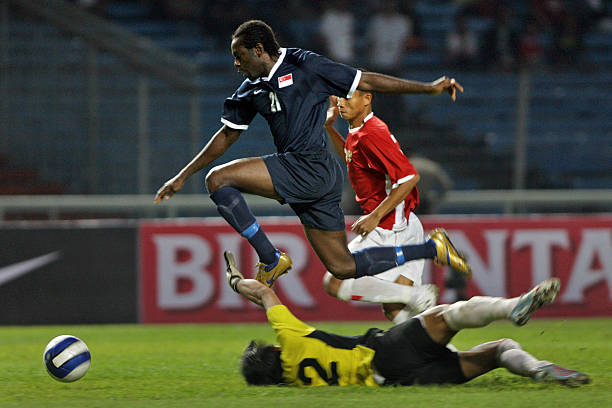 Image by Getty
Table tennis stars Isabelle Li and Pang Xuejie, who have won many Southeast Asian and Commonwealth Games titles, also benefited tremendously from sparring with their compatriots Feng Tianwei and Gao Ning on a daily basis. 
For a country as small as ours which prides itself on the fact that our population is the country's best natural resource, it is not hard to see why relying on the foreign talent scheme to put ourselves on the global sporting map is a complete betrayal of this value and a hard pill to swallow for most born and bred Singaporeans. However, just like our local workforce, foreign talents have become a part and parcel of our nation's sporting history.
Importing foreign sporting talents does not necessitate neglect for local sporting talents; they are not and should not be mutually exclusive. Much as we would hate to admit it, the track record of athletes under the foreign talent scheme have been spectacular, and this must be allowed to continue while going hand in hand with increased support and development of our local athletes for Singapore to truly realize its vision of being a sporting nation.
Leave a comment