The Drink For Snobs?
Triggered.
Craft beers; the first things that come to mind are quite usually either 'overpriced', 'at an impasse with choice', or y'know, comparing some animal labelled stuffs to piss. If you relate better to the first two thoughts, fret not, a good majority of people are right alongside you. And you'd probably share the same impression of those from the latter. So, let's address the elephant in the room – are craft beer people really pretentious? This is definitely dangerous waters to be steering into.
Here goes.
Craft beers are essentially concocted by smaller and independent brewers; and quite often, in smaller batches. One might argue that this is simply because of the lack of funding, which is true to some extent. Yet, more importantly, it's all about quality control and the taste factor. The ingredients are carefully selected and procured by the brewers themselves to ensure that every flavour, bite and finish of the beer hits the palate, exactly as envisioned. Some brewers make it a point even, to select organic elements to achieve the purest flavour with every pour.
Anyways, as the term craft suggests, craft beers are a form of art. And this art requires a special set of skills: a winning combination of creativity, an impeccable palate and of course, an extensive knowledge of brewing. On top of that, constant trips to the brewery throughout the general brewing span of four to eight weeks; personally, making crucial adjustments along the way to create that perfect blend of flavours in every batch. To be able to achieve this feat flawlessly, I'd be damn proud of myself too; and very anal about seeing my work go unappreciated. But of course, who doesn't know of a downright braggart. Oy vey.
There are always those who possess just bits and pieces of knowledge, but tries really hard to sit at the big bois table. Beers produced by macro-breweries tastes… like beer, with pocket-friendlier price points – a cost effective option if you're looking just to get a buzz on. Craft beers on the other hand, are quite often savoured with a laid back mood, seeking out and realizing every flavour in that pint; much like tea appreciation.
It's almost comparable to food. Paying for a $1 packet of machine produced instant ramen versus a $25 bowl of hand-made ramen served with broth simmered with chef picked ingredients for 10 hours – nuff said. No doubt stepping into a craft beer bar or store proves to be distressing and intimidating, especially for those who are looking for piquancy to their lives or giving craft beers a shot. When faced with such pressured circumstances, we find ourselves resorting to picking the fanciest packaging or seeking out labels that sound even remotely familiar – a game of luck.
With craft beers produced in a multitude of styles, from lagers to ales of varying colours, stouts and more, it can be tough realising those preferred beers. But soon as there's a better understanding of what you're seeking out, the choices are frankly, endless. This is why The ALT MKT 2019 is the perfect solution for craft beer noobs, geeks and everyone in between.
With bottomless tastings of over 100 craft beers, wines, sakes, ciders and spirits, you'll be spoilt for choices with what to try next. And then comes the next issue – so many likings, which ones to buy. Well, worry not, all specialty products are going at discounts of up to 50% off retail prices so you can stock up without hurting the wallet, share them with friends at the next gathering and more importantly, become one of the 'craft beer people' now.
The ALT MKT visitors can now pop and enjoy a cold one along with their furry best friends! The event has teamed up with Floof, who will be bringing on their range of craft beers for dogs to the table. Offering two delicious options of Dark Ale and Lager, it is the first of its kind in Asia. This non-alcoholic brew is actually a nutritious bone broth packed with amino acids, vitamins and minerals that are great for digestion and joint health of our beloved puppers. These brewed fresh in Singapore craft beers for dogs are suitable for all dogs, and, especially recommended for dogs that need a supplement boost.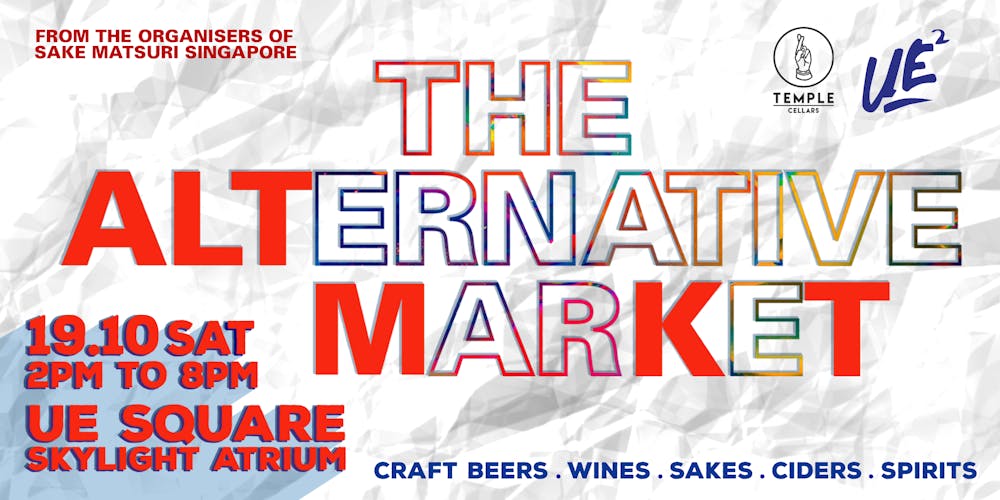 The ALT MKT 2019 will be held at UE Square Shopping Mall, Saturday, 19 October 2019, from 2pm to 8pm. Tickets on sale now at $30. Each ticket comes coupled with a Schott Zwiesel tasting glass (worth $15) for an enhanced tasting experience. Hurry! Get your tickets now and we'll see you @TheALTMKT.
Disclaimer: You might still face problems with finding your ideal craft beer due to the sheer number of choices, but hey, at least you get to try them all.
*The opinions expressed in each article is the opinion of its author and does not necessarily reflect the opinions of organisers and vendors related to The ALT MKT.
Leave a comment