Sometimes, a player is just too good for the club. A wasted talent on a mediocre roster. Xherdan Shaqiri and Marko Arnoutovic during their tenure at Stoke City, Georginio Wijnaldum with Newcastle and even Gareth Bale during his time with Southampton. They break club records, turns games around with their flair and change the way fans see the game. But they also end up as great players that never really fully reached their potential.
Terrible teams costs careers. Here are some players who need to find an exit from their club.
Martin Dubravka 
Image by Getty
With severely limited funds at his disposal, the £4 million Rafael Benitez spent on making Martin Dubravka's loan move from Sparta Prague permanent in the summer transfer window may just prove to be the most important piece of business for the Magpies – if they manage to stay up this season. With 6 clean sheets and 64 saves this season, he is amongst the top six goalkeepers in the league, despite Newcastle sitting just two points above the relegation zone. The Slovakian has been the key figure in Newcastle's stubborn rear-guard, almost single-handedly earning valuable away points at Everton and Southampton with his performance despite having sub-par defenders.
Goalkeepers do not come cheap nowadays, just look at the record breaking £71.6 million Chelsea paid for Kepa Arrizabalaga. With Juventus reportedly interested in Dubravka's services, they may do well to acquire a top goalkeeper who may very well be available for less than a quarter of the fee Chelsea forked out for Kepa in the summer, if Newcastle's financial woes persist. 
Aleksandar Mitrovic 
Image by Getty
The physically imposing Serbian front-man has had a career revival at Fulham following a disappointing start to his career in English football's top flight with Newcastle United. Loaned out to Fulham in early 2018, his 12 goals in 17 games helped them to promotion and he has not looked back since, being a pivotal part of their current Premier League campaign with eight goals and two assists – contributing half of the team's goals so far. However, with £100 million worth of investments and two managers, Fulham still find themselves inexplicably mired in the relegation battle with the worst defense in the league.
He is Fulham's only summer signing who has not had question marks raised over his acquisition. But with increasing isolation as the sole front-man and lacking quality feeds from his midfielders, perhaps it is time for the big Serbian to move on to a bigger club who can fully utilize his qualities as a target man. 
Callum Wilson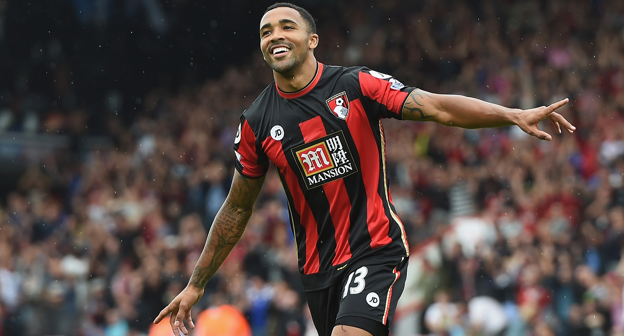 Image by Getty
One ACL injury may have signaled the end of a footballer's career, but recover from two ACL tears on each knee speaks volumes about the player's mental fortitude. That is the case of Callum Wilson who has proven time again that he can score, be it for Coventry City in League One or for Bournemouth in the Championship and Premier League. With his injuries preventing him from sustaining any rhythm in his past 3 seasons, he is finally looking back to his best with nine goals and five assists in 20 games for the Cherries this season, propelling them to a surprisingly strong start to the season and earning him an England call up in the process. His power, eye for goal, industry and intelligent movement has been making the difference for Bournemouth's attack this season. 
Now only 26 years of age, he is just hitting his prime, and provided he stays injury free, his best years are still ahead of him. With Chelsea in need of a consistent and intelligent goal scorer to fuel their ambitions, he could earn a deserved big money move in due time. 
Philipp Max 
Image by Imago
Two goals and 12 assists in 33 appearances. At one glance, you may be forgiven if you thought Philip Max was a winger. Playing for Augsburg as a left back, he has built a solid reputation for his world-class deliveries from open play and set pieces following his breakout season as a creative force in the 17/18 Bundesliga season. Already having two goals and two assists under his belt for the current campaign, he is the catalyst for Augsburg's offense, bombing forward with his pace at every opportunity and providing quality distribution through his accurate crosses and ability to find key passes. He is no pushover on defense either, proving a vital member of Augsburg's rear-guard, who have one of the better defenses amongst Bundesliga's bottom half teams.   
Unsurprisingly, he had attracted prior interest from the likes of Manchester United, PSG and Liverpool in the summer transfer window. However, if Augsburg's relegation troubles continue, it may not be long before Philipp Max moves on to greener pastures. 
Alexandre Pato 
Image by Getty
Remember this man? Yes, he was once on all the radars of our best Football Manager scouts. Touted as the new 'Zico', Alexandre Pato never lived up to the hype and failed to make the cut in Europe's top flights with stints at Chelsea and Villarreal following a promising career at AC Milan, due to his persistent injury nightmares. Currently plying his trade in the Chinese Super League (CSL) for Tianjin Quanjian, he is proving too good for the league, with 30 goals and 6 assists in 46 games. 
However, with the recent arrest of the club's owners throwing Tianjin Quanjian into disarray and with rumored Serie A offers on the table, Pato could soon follow in the footsteps of Paulinho and Alex Witsel, who have had huge successes following their moves back to Europe (Barcelona and Borussia Dortmund respectively) proving that the CSL may not be a dumping ground but rather a rehabilitation ground for the world's forgotten football stars. At 29 years of age, he may still have time for a last hurrah in what has been an underwhelming career.
Leave a comment