The art of combat sports: the graphically-stimulating and exciting experience of watching the motion of a solid punch or a roundabout kick, the adrenaline that courses through one's veins in an exhilarating ring fight and the mighty feeling of accomplishment and power in a glorious victory.
Exemplifying the exciting qualities of combat fighting through motion pictures, the film industry has shown the sport in varying angles. Aside from the violent yet professional physique of combat sport, films have also taken a more narrative approach in depicting it. From showing the biography of famous big names and their struggles, to portraying an emotional and vulnerable side of the rather "tough" sport, it goes to show how films have revolutionized the meaning of combat sport to people.
With so many sports films that have hit the big screens, here are the top five combat sport films which have made a dramatic impact in the box office as well as the popularity of professional fighting.
Plot twist: We did not include in the Rocky series.
The Fighter (2010)
Based on a true story of professional boxer Micky Ward, boxing is a family affair for him. (Mark Wahlberg). His tough-as-nails mother is his manager. His half-brother, Dicky (Christian Bale), once a promising boxer himself, is his very unreliable trainer. Despite Micky's hard work, he is losing and, when the latest fight nearly kills him, he follows his girlfriend's advice and splits from the family. Then Micky becomes a contender for the world title and he — and his family — earns a shot at redemption.
Nominated for best original screenplay award, 'The Fighter' is a clever and darkly funny character piece set against a classic sports drama backdrop – and the result is one of the most entertaining films of 2010.
From an underdog to fame, watch how Ward rises from his struggles to be the fighter he is today.
Southpaw (2015)
As the story goes: Billy "The Great" Hope (Jake Gyllenhaal), the reigning junior middleweight boxing champion, has an impressive career, a loving wife and daughter, and a lavish lifestyle. However, when tragedy strikes, Billy hits rock bottom, losing his family, his house and his manager. He soon finds an unlikely savior in Tick Willis (Forest Whitaker), a former fighter who trains the city's toughest amateur boxers. With his future on the line, Hope fights to reclaim the trust of those he loves the most.
Don't be fooled by the all too familiar tragedy-turned-hero plot. With the ferocious attitude displayed by Hope, one will immediately feel pumped and moved by how he rises to become the greatest. A tear-jerking story of determination, hope, and resilience, this is a film for anyone.
Million Dollar Baby (2014)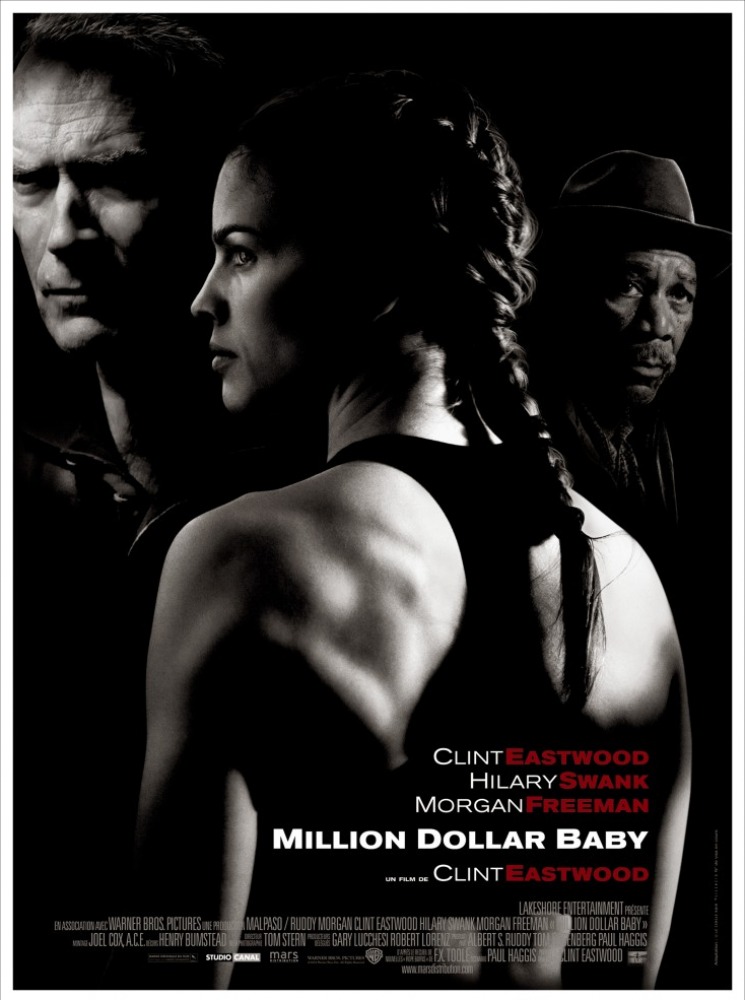 Some see this movie as a representation of girl power, others see it as a story that depicts the struggles of passion and mankind's determination.
This 2004 boxing film is about an under-appreciated boxing trainer, the mistakes that haunt him from his past, and his quest for atonement by helping an underdog amateur boxer achieve a woman's dream of becoming a professional.
Directed and co-produced by Clint Eastwood, the movie depicts Margaret "Maggie" Fitzgerald (Hilary Swank), a waitress from a Missouri town in the Ozarks, who shows up in the Hit Pit, a run-down Los Angeles gym owned and operated by Frankie Dunn (Clint Eastwood), an old, cantankerous boxing trainer. Maggie asks Frankie to train her, but he initially refuses. Maggie works out tirelessly each day in his gym, even after Frankie tells her she's "too old" to begin a boxing career at her age.
An inspiring tale of a passionate boxer and emotional truth of the sportsperson, the depiction of dedication in despair is touching. A groundbreaking film which shows us that life is a cruel slap in the face but encourages us to pursue our dreams regardless.
Team Foxcatcher (2016)
Team Foxcatcher is a documentary about how John Du Pont used his money supposedly to help the USA Olympic Wrestling Team by building expensive training facilities on his home property, called 'Foxcatcher'. Dave Schultz, the USA's most successful wrestler at the time, was among the closest friends of John Du Pont, defending him when Du Pont's bizarre activities began to cause concern among those living on the 'Foxcatcher' estate.
This movie depicts the paranoid downward spiral of John E Du Pont and the murder of Olympic wrestler Dave Schultz in a chilling and unsettling narrative that you won't forget.
Warrior (2011)
Warrior is a 2011 American sports drama film starring Tom Hardy and Joel Edgerton as two estranged brothers whose entrance into a mixed martial arts tournament makes them come to terms with their lives and each other. Hardy portrays a deserted U.S Marine while Edgerton plays a high school physics teacher. As much as it is an action film, the movie's plot revolves around family and social issues faced in poverty. Considered as one of the best drama-action films, Warrior is a must watch movie featuring notable names such as Anthony Johnson, Kurt Angle among others.
Leave a comment